Description
The Satellite™ 480 Generation 3 Planetary is a reliable and virtually indestructible concrete grinder and polisher. Available in a single phase motor with a 5 year warranty on the cyclo transmission. It has a three head disc drive that is ideal for grinding, polishing, levelling, cleaning,glue removal and re-surfacing. No belts are used, therefore repairs are very easy. It also has non marking wheels and an adjustable handle for compact storage.
- Developed for Professionals who Grind & Polish
- Concrete - Terrazzo
- Granite - Natural Stone
SP - Planetary Drive System Satellite™ 480 G3 SP
High Diamond Speed - Ensures Outstanding Production
Fast Diamond Tooling Change- Over - No Tools Required
No Gouges or Ridges
Accepts = 125mm, 175mm Wheels + 50mm Plugs
RPM = 360
Weight = 160kg
Production = 50-75 sqm/h
Power = Single Phase
Warranty = 2 Years & 5 Years Transmission
Changing over to plugs demonstration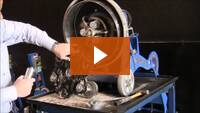 Buy the Satellite™ 480 and receive a LIFE TIME discount of 12.5% on replacement diamonds...!
*Please call
1300 044 625

for pricing
Ideal Dust Extractors: